Online English. Native teachers. A Fun & Fast Investment in Your Future!
We are the only centre in Romania to use the Genki program to teach young learners – which has been Harvard researched to get fast, effective results in the shortest possible time. This software gets children not only speaking English within 2 or 3 lessons but also gives them the ability to understand, ask and answer questions in full sentences. Genki is a program to be truly amazed by!
Also at no additional cost, our students get all the worksheets, phonic sheets and the songs studied, free of charge after each and every lesson.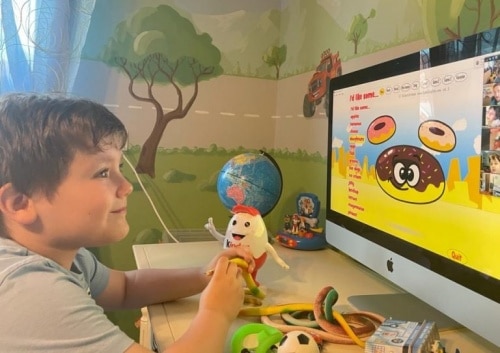 Age: from 4 up to 6 yo

Duration & Frequency: 45 minutes 2 times a week
Price: 49 RON +TVA/hour
Age: from 7 up to 9 yo
Duration & Frequency: 60 minutes 2 times a week
Price: 67 RON +TVA/hour
 Genki English was the brainchild of Richard Graham, a British teacher, working in Asia. 
After becoming disheartened with the results his young students were achieving with the typical 'boring' style of foreign language lessons, he started to listen to what children really wanted to say and created a software which would teach them how to say it in a way they really wanted to learn!
The results were truly amazing and transformed not only the way he taught English, but the speed at which his students were able to speak and understand English in full conversational phrases, all without any boring grammar or vocabulary drills!
Due to the huge success of Genki, the software was rolled out around the World and is now taught in many different countries by experienced Genki English Teachers, as well as receiving recognition from Tedx, Harvard University and The British Council!

The Magic of Genki: 
We all know that children learn a lot faster with computer games and animated songs and so the Genki program is designed to capture the interest of the students and motivate them to level up their English in the shortest time possible!
All the learning tasks within the software are organised as game-like activities, which immediately motivates the children to take part. The lesson tasks are achievable, and learners receive positive feedback from their teacher throughout the lesson.
It is important to note that the teacher plays a key part in the Genki learning process as simply using the materials alone is not enough. The way the children are motivated to engage with the materials during lesson time is just as important as the software itself and it is this combination of learning style and materials that ensure maximum results which are truly visible even after just 1 or 2 lessons!
More reasons to sign your child up for Genki today:

Researched by Harvard University Graduate School of Education & The University of Oxford Department of Education. Licensed by the British Council around the world, in particular Japan.
 British Council Press Release: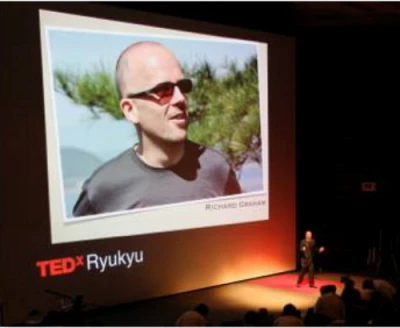 "The Genki approach to learning English works by engaging all of the learners' senses and appealing to a wide range of learning styles. Children are engaged visually through the simple but striking graphics, aurally/orally through the simple chants and songs and limited amounts of graded vocabulary input and kinaesthetically through the actions and games. Because all of the learning tasks are organised as game-like activities, children are immediately motivated to take part."
Genki English has also been officially certified to cover the Education Ministry and Common European Framework of Reference for Languages (CEFR) requirements for A1 & A2 levels in the EU (Research: IALF-G14-7-8, 2014 Report of the main findings by Deparment of Language Pedagogy and Intercultural Studies, PF UKF, Nitra, Slovakia).
Featured on TEDxRyukyu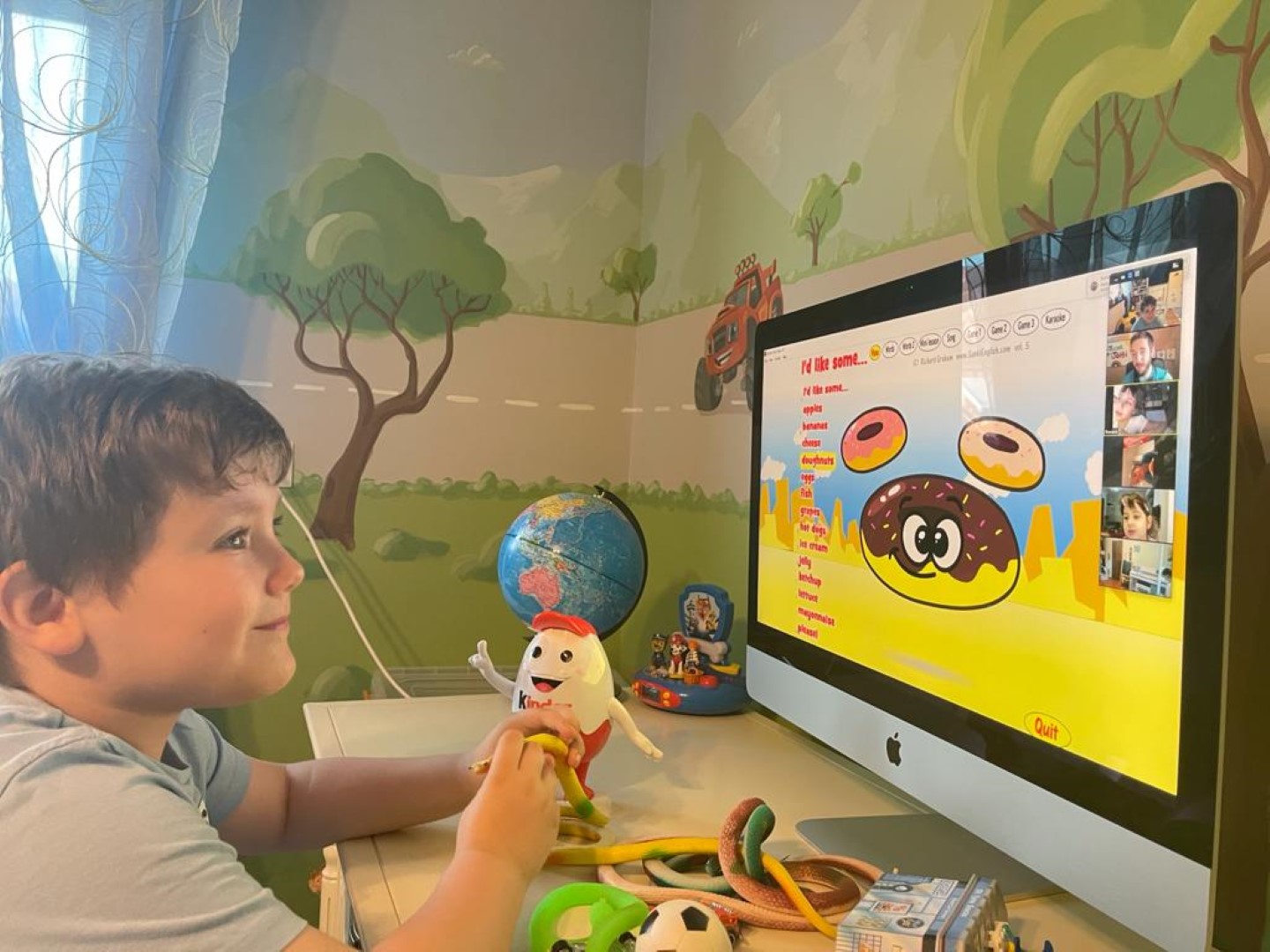 Age: under 7 yo
Duration and frequency: 45 minutes
2 times a week
Price: 49 RON +VAT/lesson
Age: 7-9 yo
Duration and frequency: 60 minutes
2 times a week
Price: 67 RON +VAT/lesson
Meet our clients and teachers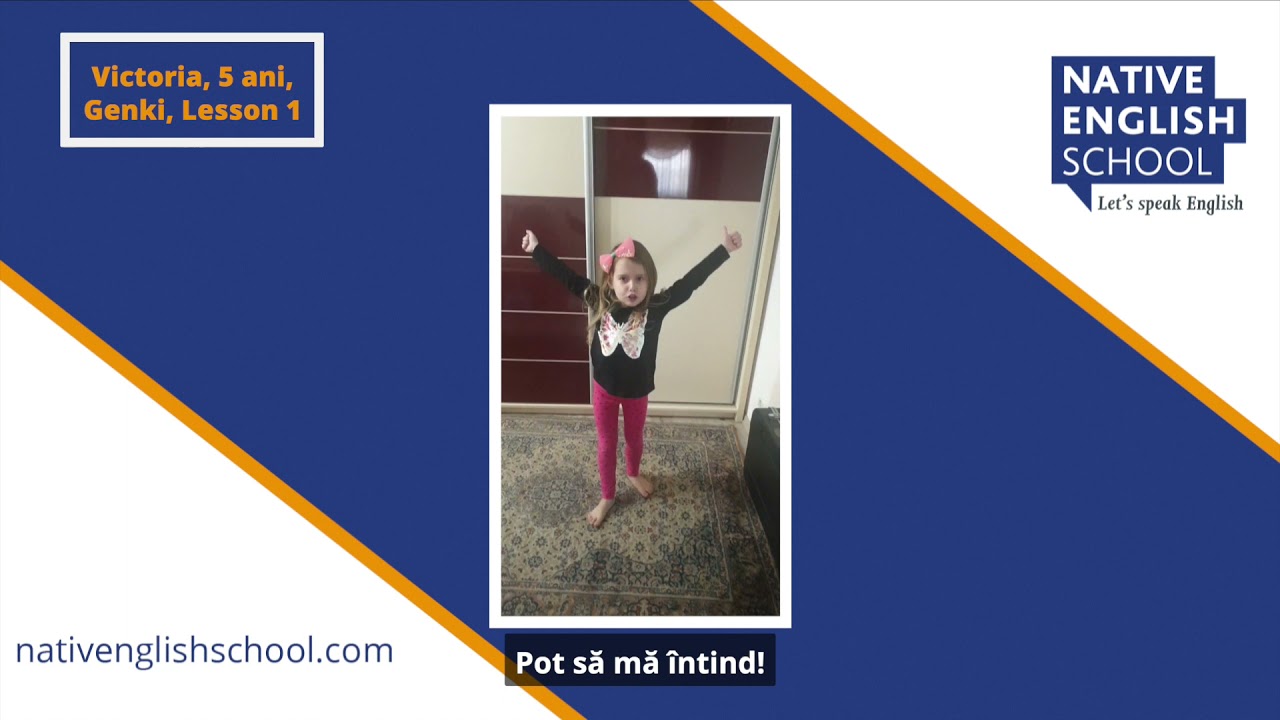 0:51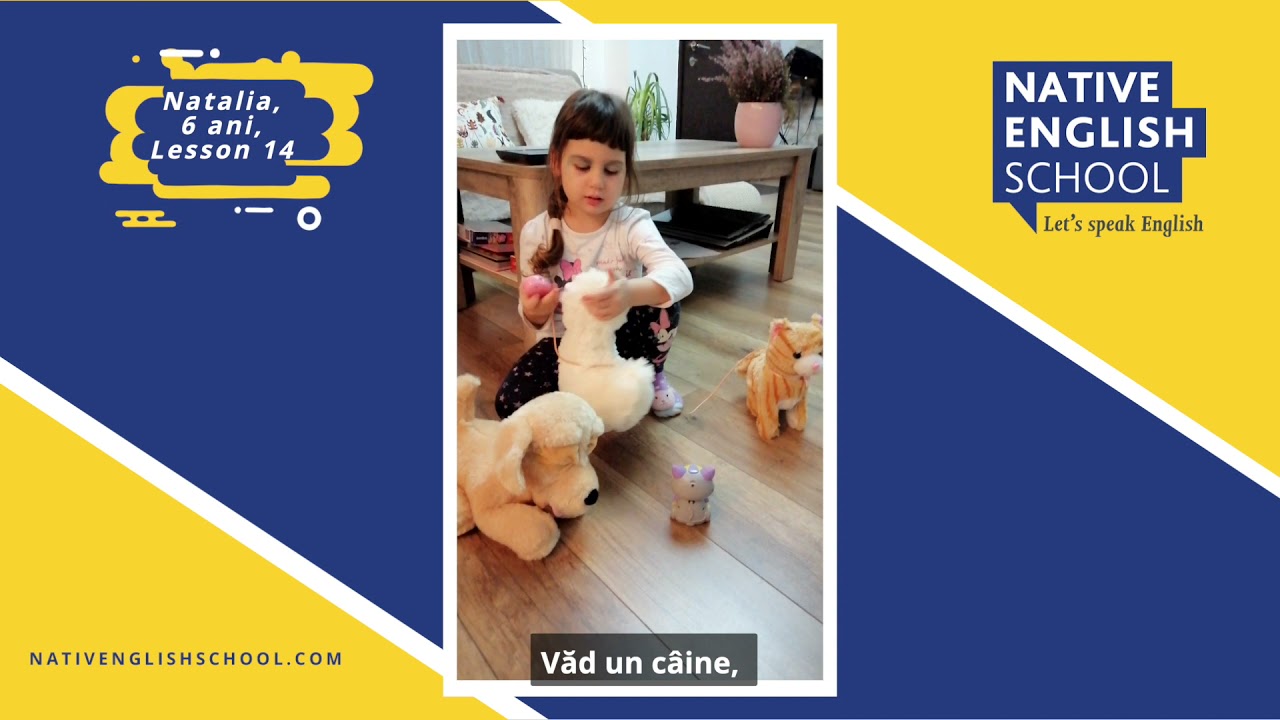 1:04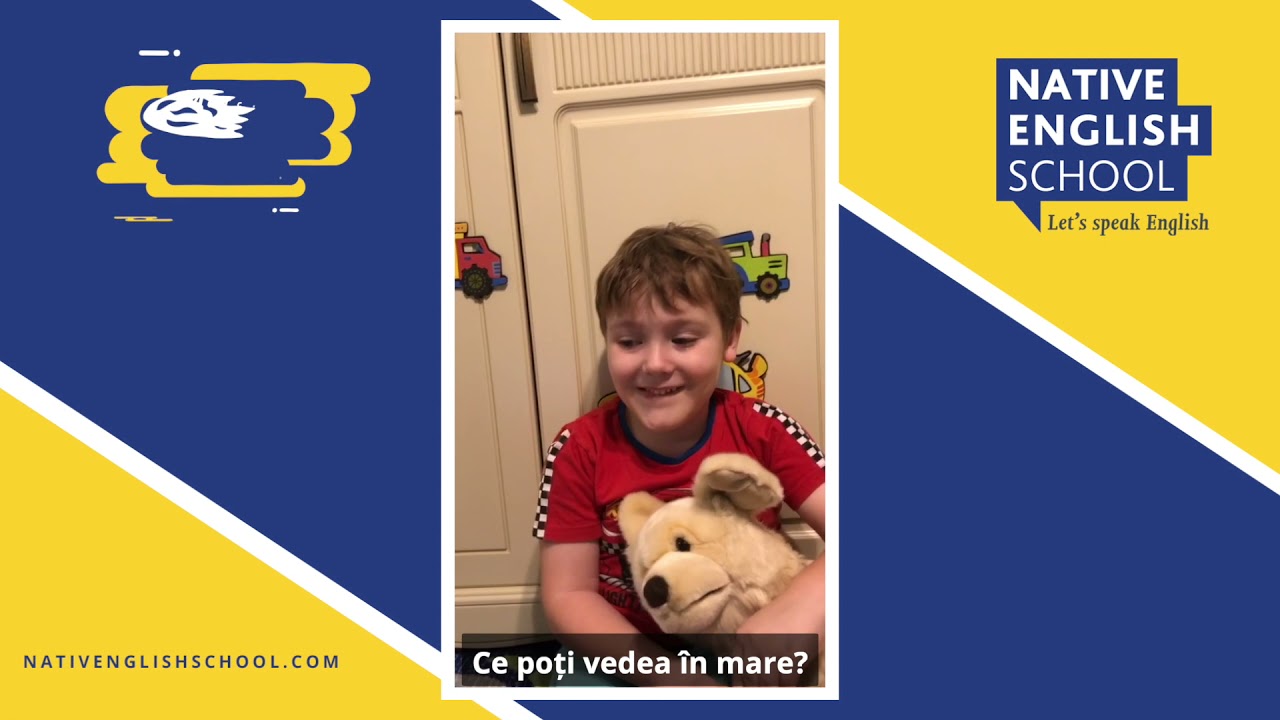 1:07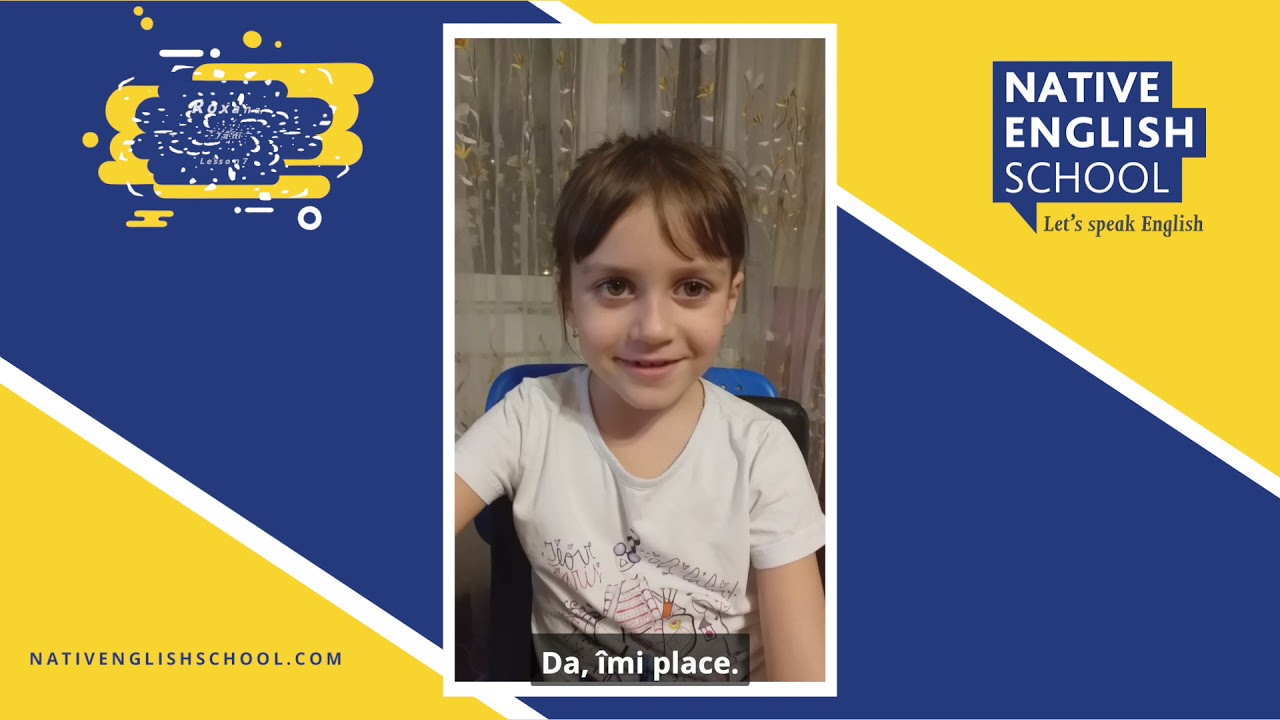 1:03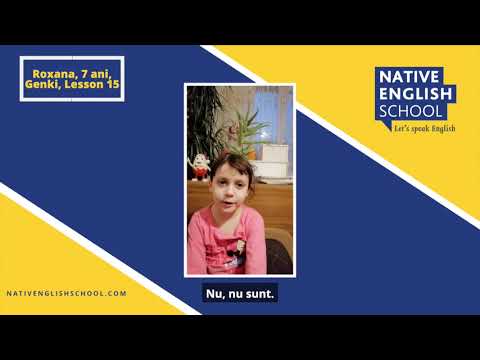 1:04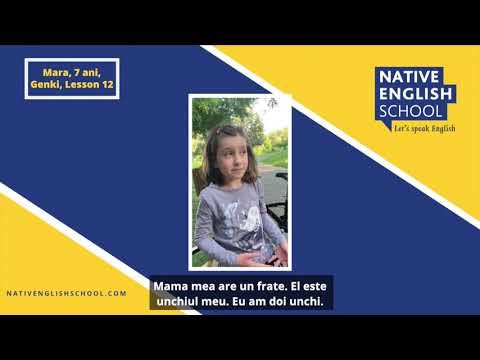 1:16
I heartily recommend it! Samantha is a beautiful soul and very attentive with the children! The activities are attractive, the children relaxed and always excited about what they have to do next during the class!
Ruxandra I.
⭐ ⭐ ⭐ ⭐ ⭐
Samantha is very dedicated and the children are learning British English through playful creative activities! During class the atmosphere is nice and relaxed, and the children happily attend it! I gladly recommend it!
Claudia S.
⭐ ⭐ ⭐ ⭐ ⭐
I am very happy to have discovered Native English School! The atmosphere is welcoming! I've chosen Summer School classes and could see the progress after only one week.
Ligia S.
⭐ ⭐ ⭐ ⭐ ⭐
Learning English with a native speaker is the best choice you can make. Native English School teachers have helped me overcome my fear of speaking English to someone and also improve my pronunciation. A native English speaker does not judge you when you are wrong, but encourages you and appreciates you for any progress, and that gives you confidence.
Alina V.
⭐ ⭐ ⭐ ⭐ ⭐
Thank you, for your charisma, enthusiasm, patience, joy and confidence you bring in English classes, the way you share knowledge, the way you make English friendly, easy, lovely. My son is more confident, he has the courage to speak, due to your "magical" practice and games, even in public. This is what I want more, to have a correct approach of the language, to have a good accent, to love English classes.
Carmen N.
⭐ ⭐ ⭐ ⭐ ⭐
My son came back on Friday evening from the summer camp and on Saturday he took his Fun Starters and started to solve the exercise telling me that he missed classes and needed to recover information. That was nice, he liked the English course with Jeremy and he made a foreign friend on holiday and realized how important English is.
Ana Maria S.
⭐ ⭐ ⭐ ⭐ ⭐
We are very happy seeing her so enthusiastic about English classes and definitely her progress is evident. During our vacation she was willing to have conversations in English with foreign people. So, thank you for that and many thanks to our teacher!
Selena P.
⭐ ⭐ ⭐ ⭐ ⭐
My daughter has improved her English tremendously since she started with Native English School and we are looking forward to the next school year.
Diana B.
⭐ ⭐ ⭐ ⭐ ⭐
I was positively surprised by my daughter the other day when she was trying to have a conversation with a girl in English.
Ioana L.
⭐ ⭐ ⭐ ⭐ ⭐
It's super easy! Fill out the form, choose an available time slot that fits into your schedule, pay at checkout!

The evaluation will take place via Zoom, with one of our native teachers, and lasts around 30 minutes.

Get your first lesson FREE once you register for class!